What do CMO's want? Revenue growth, profit, acquiring new customers in a particular segment. Marketing only delivers it's full potential when you understand and optimize to those real business outcomes. This requires setting campaign goals that ladder up to both your marketing objectives and higher-order business objectives.
The role of marketers is constantly evolving. Automation is delivering precision and new performance gains. It's replacing the repetitive and most monotonous parts of a marketers job. For example, tasks to implement extensions across hundreds of campaigns, or building thousands of keyword variations.
How are marketers delivering in this age of automation?
Although automation is changing jobs, it's also giving more leverage by freeing teams to create new and more thoughtful value. Successful automation requires ongoing management. Not just during setup, but throughout the lifecycle of a campaign. Here are three fundamental mindsets that are critical to preparing for the future vision of automation:
Understanding the customers buying

consideration journey

Optimize across channels to drive real business outcomes
Build a strong

measurement plan and experimentation framework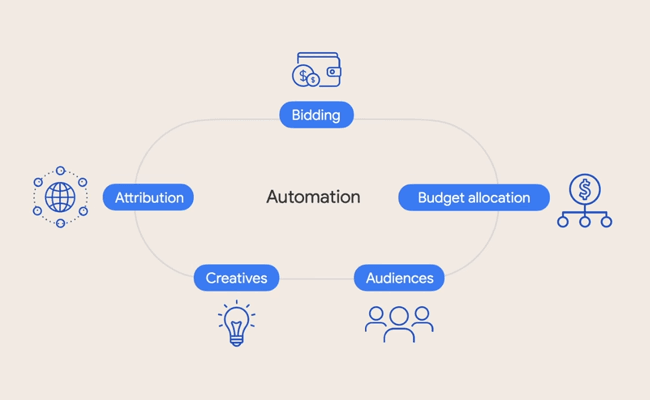 How are big brands using marketing automation?
Bose's efficiency first strategy was revealed in Jason Spero's keynote at Google Marketing Livestream 2021.
Bose broke down team silos in order to fully allocate spend where demand was. Unified efforts across local markets and product categories. They conducted a total account restructure, consolidating campaigns and ad groups to give machine learning more data to improve it's predictive accuracy.
They regularly improved the quality of the inputs they feed into the automation and filled gaps in product feeds by implementing a global site tag to future proof their conversion measurement. They are constantly QA'ing and refreshing their creatives to make sure they follow best practices.
In their campaigns, they combined data-driven attribution with target ROAS automated bidding and applied this to 90% of their total ad spend.
The results?