I read Wistia's State of Video Marketing report and found it to be very insightful. One of the first learnings that jumped out at me was how much video marketing has grown in recent years, accelerated by the pandemic through 2020-2021. However, as the world re-opened in 2022, video uploads, plays, and time watched came down from their all-time highs. This video marketing report analyzes video data from 2013-2022 to see if businesses and consumers are returning to long-term trends or whether the pandemic fundamentally changed video for business.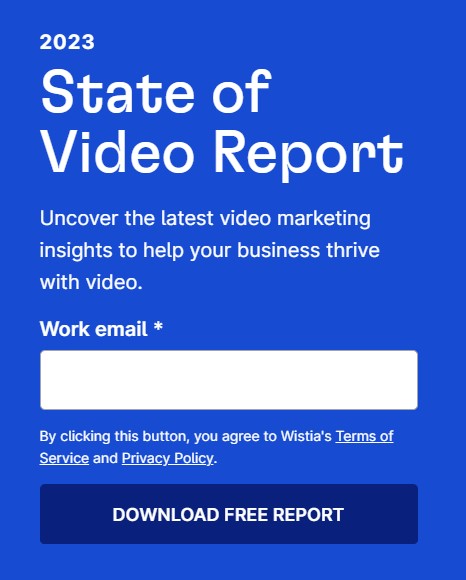 The full report is comprehensive but very easy to digest. It covers video marketing strategy, expanding on goals, prioritization, budgets, planning, and more. There's a video creation section that dives into data, such as video uploads, production, pricing, and length. This is a great place to focus if you're already looking to make videos in 2023 and you want to learn more about what the data says is trending in video creation.
Each section is reveals thought-provoking data that could help stimulate ideas or just help you make video marketing decisions for your organization in 2023. Here's a summary of key takeaways that resonated with me.
Let me preface my commentary by sharing the methodology of the report it's based on. Wistia analyzed user data from over 80 million videos uploaded to their platform between 2013-2022. They also surveyed over 1,500 customers to find out how they are thinking about and planning their video marketing strategy in 2023. The majority of respondents who weighed in are marketers at SMB with 0-50 (44%) and 51-200 (22%) employees. The businesses represented are mostly in the software industry, followed by marketing/media/entertainment and education. They also saw responses from consulting companies and industries like healthcare, construction, finance, retail, and others.
Having a Video Marketing Strategy
The report shows that marketing teams recognize the importance of video marketing but are not entirely sure how to create a video-specific strategy. This is surprising, given that video has been a growing trend for several years now. However, the fact that companies are using video strategically, with most focusing on product education and creating new customers with video, is a positive sign. It's interesting to note that product videos, educational videos, and webinars are the most popular types of videos. These videos provide value to customers by teaching them about a product or a topic related to the product. They also offer the opportunity to engage with potential customers through webinars and live events.
Budgeting for Video Marketing
Another positive sign is that businesses are upping their investment in video marketing, with the majority of marketing teams keeping or increasing their budgets for 2023. This shows that businesses recognize the value of video marketing and are willing to invest in it. They are also are continuing to invest in long-form video, like webinars and live events, which is not surprising since they are reported as the highest performing videos.
Measuring Performance of Videos
One area where marketers can improve is in interpreting video performance. Most teams use video data to inform future content decisions, but they could be doing more with that data. For example, video A/B testing is a great way to see what is resonating with an audience and what isn't. Only 19% of people conduct video A/B tests, and 21% of people weren't aware that they could. Marketing teams that enable A/B testing with video will gain an advantage of creating more effective videos that resonate better with their target audience.
The report reveals that marketers recognize the importance of video marketing but are still figuring out how to create a strategy. Using video to educate customers about products and to create new customers with Product videos, educational videos, and webinars is what most marketing teams are doing. Wistia suggests that video marketing will continue to be an important part of the B2B SaaS industry in 2023 and beyond, with businesses continuing to invest in video to engage with their customers and drive business growth.
TL;DR
Wistia State of Video Report 2023
Key Takeaways
Marketers recognize the importance of video, but only about half of them have a video-specific strategy.
Most companies focus on product education and converting new customers with video.
Product videos, educational videos, and webinars earned the most engagement and return on investment.
When it comes to interpreting video performance, marketers mainly use video data to inform future content decisions.
Brands upped their investment in video in 2022, and most are keeping or increasing their video budgets for 2023.
Long-form video, like webinars and live events, are among the highest performing videos.